KATIE MACK is a Bridge Deck Cruiser built by John D. and William L. McGregor of Vancouver, BC, in 1932.  While some of her paperwork attributes her design to Ted Geary, we have yet to find confirmation. Her length over all is 46′, beam is 11.2′, and she draws 4.5′.  She is powered by a GrayMarine 6-71 diesel engine which, according to the surveyor, will outlive us all.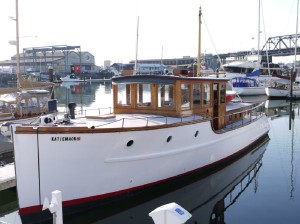 The earliest document we have found shows she was registered in the Canadian Registry, Port of Vancouver, BC by the McGregor brothers as "HOALOHA" (Hawaiian for "cherished friend"), #157242.  She was powered by a 1924 Sterling 6 cylinder gas engine.  In 1937 she was sold to Mrs. Wilson Gouge of Drumheller, Alberta, Canada. On 7/8/40 there is documentation of a gas Lycoming 165 hp engine replacing the Sterling.  She was "sold to foreigners" — possibly Paul Loudin of Olympia, WA — on 10/8/43 and the Canadian Registry closed the record on 10/15/43. In the US, the application for US registration was dated 11/30/43, and she was registered as MARBOB by Wesley McDonald (also of Olympia, WA) — named for his daughter Marilyn and son Robert.
According to mentions in The Rotarian, McDonald spent summers cruising to Alaska via the Inland Passage to go salmon fishing with family and his Rotarian buddies.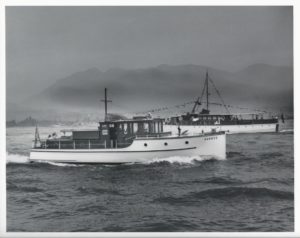 Above photos courtesy of the Puget Sound Maritime Historical Society.
Her official number, 244882, was carved on a crossbeam in the engine room, along with "NET 18", a measure of her cargo carrying capacity.  
In 1951 the Lycoming engine was replaced by the current 6-71 diesel engine.  US Coast Guard vessel documentation shows that she has also been registered under the names ELIZA and WILD ROSE.  Not much else is known about KATIE MACK, though the search continues for the missing pieces of her history.
We bought KATIE MACK from John "Jack" McCarley, a teacher, carpenter, and boatbuilder in Tacoma, WA.  
He owned her from 2004 to 2013, and lived aboard for 5 of those years.  Jack bought her at a bank foreclosure sale — she had been stripped of much of her interior, and he painstakingly refitted her, both inside and out.
Her current name comes from Jack's mother's and his girlfriend's mother's nicknames, Katie and Mack.  We thought about changing her name, but after searching the internet and viewing boats in Maine, Rhode Island, Maryland, and California, we found ourselves comparing her to all the others, and saying each time, "She's nice, but not as right for us as KATIE MACK."