Through the spring, Hugh and I continued to work 2-4 days each week, and all other days were spent at the boatyard.  At the end of June, I decided to work on KATIE MACK full time — 7days/week, while Hugh worked 2-3 days/week until the beginning of September.  When not at work, he, too, was at the boatyard. It has been not only exhausting but also exhilarating to see the progress!
We are using Georg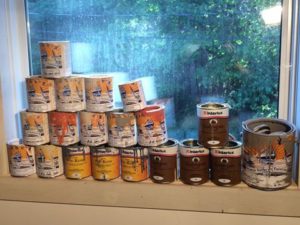 e Kirby, Jr Paints — a family-run company in New Bedford, MA since 1846. Their semi-gloss vintage colors are fantastic and their service is unparalleled — when we call for more paint, it is delivered the next day!
All interior painted and varnished pieces that could be removed were brought up to the prep, varnish, and paint rooms. Cupboards and doors, screens, stairs, hatches, shelves, and lots and lots of trim were prepped and painted "Sand", "Maynard Bray Off White", "Mist", or "Reddish", or varnished with Interlux "Satin", then prepped and painted or varnished again.  At least two coats on everything.  I've built up eight coats of Awlgrip M3131 high gloss varnish on the handrails, as well as masts and booms for both KM and our sailing dinghy, SAMARIA.  The dinghy needed two coats of "Red" paint on her hull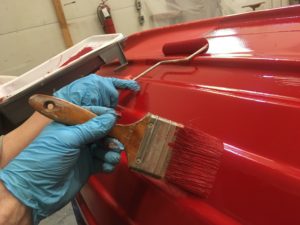 , and two coats of "Grayling Gray" on her interior, daggerboard, and rudder, and multiple coats of high gloss varnish on her rails and seats.  This is all so much easier to do in a good workspace, and we cannot thank Chip and Scott enough for encouraging us to do as much of the interior work as we have.  We feel so much more "invested" in this labor of love than if EVERYTHING were being done for us.
Meanwhile, Hugh got all the electrical pieces ready for Tim Carolan,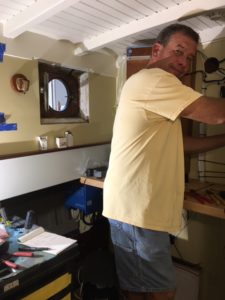 the marine electrician, to connect to the AC and DC breaker panels.  We are trying to keep "the look" as original as possible, but there are newer navigation and safety features and alarms that we are adding, as well as a one-drawer refrigerator, a cooler-sized freezer, a water heater, and a microwave.  Hugh also installed the electric windlass to make hauling up to 300 feet of anchor chain and a 45 lb. CQR anchor a LOT easier!
Next up was to prep and paint/varnish all the interior bulkheads and trim in the galley, saloon, passageway, head, and stateroom,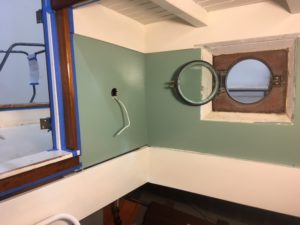 while trying to stay out from underfoot as Chip, Scott, Matt, and Brandon affixed the cap-, toe-, whale- and quarter-rails, then taped, sanded, and varnished the pilothouse and cap and toe rails.  Multiple coats, of course!
The hull was ready to be watered down, so a plastic sheet was taped just below the rails,  
sawdust was swept in piles underneath, and watered down, and the wood swelled nicely.  The stem had dried out enough that it had a "saline drip" running from a jug.  Once the seams were tight, the hull was primed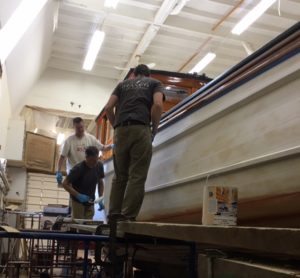 and then
the topsides received three coats of white semi-gloss paint.  The bottom paint is two coats of dark red signal coat covered with two coats of black ablative paint by Sea Hawk.  As the black wears off  we'll know it's time to repaint when we start seeing the red undercoat.  The running gear is painted with orange anti-fouling ePaint, designed especially for protecting underwater metal.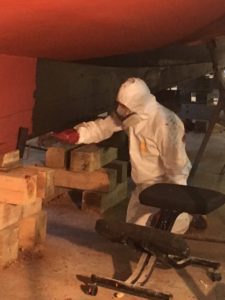 Mark, the diesel mechanic, began readying the engine: he replaced the fuel hoses, installed a crankcase air ventilation filter, plumbed the water heater, replaced the fuel pump impeller, hooked up the raw water intake and telltale . . .  until it was time for him to go moose hunting.   Good news is he and his niece each got their moose — over 1,300 lbs of good eating — and he will be back this week to finish up.
The crew painted the pilot house- and cabin-top "Mist", the exterior deck trim "Pearl Gray", and the decks "Slate Gray".  System Three polycarbonate grit was added to the second coat of "Slate" to provide a safer, non-skid surface, with smooth "channels" around the edges to allow for better water runoff.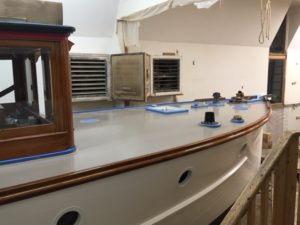 Since the visor was delaminating, a new one has been made of Alaskan yellow cedar.  It has been painted "Bronze Green", along with some trim around the pilot house and cabin top. 
The visor will be installed "soon", along with whatever remains on the punch list, as Bucky is scheduled to pick up KATIE MACK on Friday afternoon and transport her to Yankee Marina for Saturday's relaunching at 10 AM.  If you are reading this, consider yourself invited!