Saturday, March 16, 2013 — Hugh came home from the Maine Boatbuilders Show with a funny look on his face and a crazy, wonderful idea:  "What if we sold
everything — the house, the alpacas, EVERYTHING — and moved aboard a boat?"
He had found himself drawn repeatedly to the booth of boatbuilder Doug Hylan and showed me a photograph of DELIVERANCE.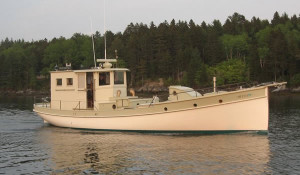 Doug Hylan built her for the man who once owned GRAYLING, a sardine carrier built in 1918 that Hylan had restored and converted for cruising.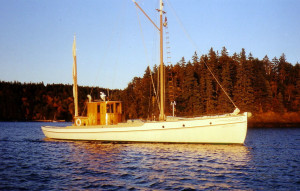 Hugh grew up summering in Southwest Harbor, ME and always admired the sardine carriers there. He was thinking of modeling the JOYCE MARIE,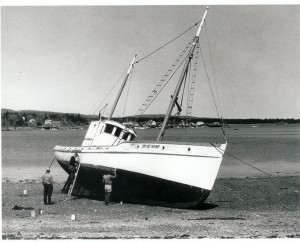 one of the few remaining carriers, and we had spent a foggy day aboard her in Boothbay Harbor the previous fall
taking pictures and measurements.
When he saw the photographs of DELIVERANCE at the Boatbuilders show, something "clicked".
I think I caught him completely off guard when I replied, "I could do that."
All of a sudden our conversations were filled with looking forward to all kinds of possibilities.  While the alpacas have been "my thing", and Hugh's medical practice has been "his thing", this will be "our thing".  We agreed to look for a wooden boat — we've only owned wooden sailboats, and Hugh spent his childhood sailing a Herreschoff 12, a 1920's catboat (the PUSHEEN GRA), and most memorably, TYCHE, a 1922 Alden schooner.  Our first boat, TUKEY, was a 1932 Vineyard Sound Interclub.  We spent two years sailing, sanding, and caulking, and then spent our honeymoon sailing around Buzzards Bay.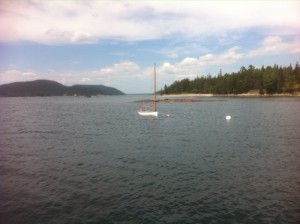 Our next sailboat, BOB, was built by the Apprenticeshop in Bath.  She is a 14′ gaff-rigged North Haven dinghy.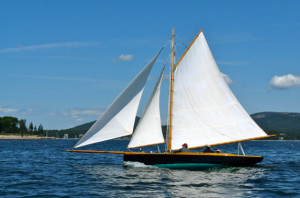 In 1996, Ralph Stanley designed RESOLUTE for us.  His son, Richard, did most of the building of this gaff-rigged cutter.  We know what is involved in maintaining an old wooden boat.
My only stipulation: I wanted a powerboat, not a sailboat.  Why?  Because I didn't want to live down below in a "cave", I didn't want a big mast coming through the middle of our living space, I didn't want our living space to be canted at 45 degrees as we moved from place to place, and powerboats tend to have 30+% more living and storage space than sailboats.  Though he is an inveterate sailor, Hugh agreed that a powerboat made more sense for us as we were looking at living aboard in our 60's and possibly well into our 70's!