Although the original plan and budget were set to replace the floor timbers, several frames (many of which had already been sistered), and all planks below the waterline, Hugh's father always said, "A job worth doing is worth doing right." That goes along with a friend's father's telling her, "If you don't have the time to do it right the first time, when are you going to have the time to fix it?"  This is the time to do it right.  KATIE MACK will be our home for who knows how long — we may as well start off knowing she is as sound as she can be.
The extra time needed to "do it right" has allowed Hugh to search high and low across the internet for period-appropriate "bits and bobs" (as I call them) of brass and bronze: a showerhead with curtain ring, 8″ portholes, searchlight, fastenings, gauges, hinges, latches, etc.  We are upgrading the electronics — all wiring is being re-done.  It's amazing what has been cobbled together over the years, but we will be able to sleep well, knowing the wiring is all ABYC-compliant.  New safety features are being added after a great deal of research: automatic engine room fire extinguishing system; smoke, fire, CO, and propane fume detectors; engine coolant water flow alarm; high water alarm in bilge; GPS/AIS multifunction display (MFD) — no radar yet; PFD's for dog and humans with alarm sensors in case one of us falls overboard, InReach Explorer by DeLorme, and much more.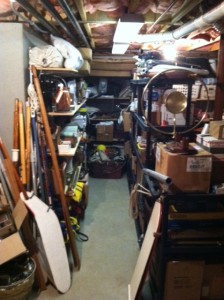 Hugh found a teak hatch cover from a Canadian minesweeper that will serve as the sole (floor) of the head.  Underneath is a copper pan for the shower drainage. The head now reminds us of the W.C.'s in London's B & B's which have a drain in the center of the tile floor, with no separate shower stall.  All plumbing will be new.
A new-in-box Shipmate wood-fired cookstove from the 50's is replacing the diesel stove in the galley, and the stainless steel surround has new insulation behind it.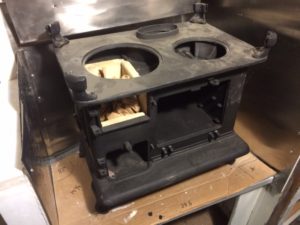 We will be spending plenty of time in New England waters which get chilly, even in summer.  Wood is readily available as driftwood and in boatyards.  When we find ourselves in warmer climates, we have electric oven and propane stovetop options.
It's these little things that will help make KATIE MACK a very special home.